Tell me a little about yourself and the journey that lead you to your career today.
I was born in Chicago, Illinois, but I grew up in Minnesota. My mother is a former art teacher, and my father is a lawyer and Air Force Lieutenant Colonel. I think that speaks a lot to how I'm wired. I started off just drawing as a kid and was always encouraged with that. I spent most of elementary and middle school thinking art was going to be my career. I never really considered design as a path until college.
I thought for a while about becoming a comic book artist. That was a really big deal to me. I had a lot of success on the comic book convention circuit back in the late eighties, early nineties in winning contests and things. There was a mentor program through my high school that I was able to work with commercial artists, and I was able to spend time with this guy named Dan Jergens. This was an award from winning an art contest at a comic book convention, he was the writer and pencil artist for Superman around, I think, probably 1990. I won an opportunity to go his home and learn more about that. That was going to be my path, but there aren't college courses for comic book art.
I went to Savannah College of Art and Design to study illustration for part of the summer between my junior and senior year. That was when I was first exposed to design, but even then us illustrators were looking down our nose at the designers. This was pre-computer and it looked like they were just putting types on top of pictures and I'm like, "No, we're the real artists. We're training and inventing things." I considered getting into production design for Disney my freshman year. That path forward had shifted [me] towards commercial illustration. . . I took a design course because I knew freshman illustrators have to work with designers. I knew I needed to know what their world is going to be like.
I started noticing that success as an illustrator was going to be dependent on style and fashion. I asked if my aesthetic [was] going to be profitable at the time. I just wasn't comfortable about having my career being that much up in the air based on the interest of magazine art directors. That combination of things led to me being really open to the world of design when I was introduced to it. It really just blew me away. I started learning about designers that were also illustrators and I was like, "Oh, I don't have to abandon my passion here." It was because of people like Milton Glaser and Paul Rand that were very much art centric in their approach to design. I think most strong designers in the space have that at their core.
Also in those early days I started reading books about Pentagram. I think the first book, The Pentagram Compendium, I got my sophomore year in college. [They were] a firm of five partners where one of them was a product designer, another was an architect and the others were graphic designers. The idea of being able to work in a collaborative environment across different disciplines like made me think, "Yeah, I want to do that someday. I want to open my own agency someday."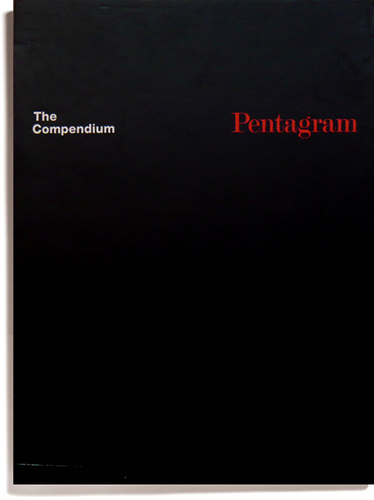 So you knew very early on you wanted to start your own agency then?
Yes. That was 1994. I didn't get out of school until '96, but I knew I was going to do this back then. It was that book and the learning around that right when I was shifting majors I'm like, "This is going to be it. I'm going to open a firm someday and I'm going to call it Stratosphere because we're going to be all about strategy and big picture thinking."
So you had the name back then too, the whole concept?
Oh yeah, the whole thing. That was really the beginning, and I was obsessive about everything. I was just designing everything I'd get my hands on. There was a [college] course where I tried art direct every publication I could do while I was there. Friends were running for office on campus, and I would design all of their things. I met my wife that same year. She was up for homecoming queen. She had to put up posters and things. [I did the] photography for her ballot book, and she won! My friends were up for student senate, and they all won. I was president of my fraternity where we were doing fliers. I was just designing all kinds of stuff.
I did crazy amounts of internships. By the time that I graduated school in '96 my entire portfolio was printed work. There was a competitive internship with Des Moines Register, which is a paper. I was in Drake University in Des Moines, Iowa. I worked in their marketing department for the entire summer. I spent a semester working at an ad agency and later I worked in a design firm called Mauck + Associates for a guy named Kent Mauck.
Even before all of those things I spent the equivalent of a semester, my first internship was at a school district designing things to support teachers, like hall passes. That first experience taught me that even the most inane things can be interesting and beautiful. Whether it's just doing fliers for some teachers conference, or a hall pass, or a library check out card. That taught me a lot about not looking down your nose at projects that we think may be uninteresting or uninspiring. You can make anything amazing if you approach it the right way. That was part of my early indoctrination into the professional design world.
You spoke to the fact that you made it a point to travel a lot throughout your early career and to design in different spaces in different cities. Ultimately you ended up in Dallas, so what brought to settled down there?
Let's see. I left Drake and then I worked for two years in Minneapolis at an agency called Rapp Collins Communications. It's different than the other Rapp Collins Agencies, which were more direct marketing focused. . . I grew up in the Minneapolis area. I'd gotten married up there, and I literally wanted to go someplace completely different. I think there was just the idea of going someplace and starting from scratch where we didn't know anybody, so we moved to Dallas. That was 1998. It was all a big leap of faith to just try something completely different.
I did a brief stint at an investment relations firm that was creating a design department, which was a mistake, but I learned important management decisions there. I learned the kind of places you don't want to work. I spent time working at DDB – well now it's Tribal but then it was DDB Interactive. That was a big baptism by fire in the world of web. . . Before I was really more print in identity oriented with little experience in interactive. The time at DDB was pretty important and transformational. I wanted to do more than just interactive so that's when I went to work for Willie Baronet at, what was at the time GibbsBaronet, and then later became GroupBaronet. I was there for four years.
My wife got an opportunity to go run an account in Chicago. That was after September 11th, the economy was tanking, people were getting laid off all over the place. There was only one place in Chicago that I would ever want to work and that's VSA Partners. . . [They] could probably throw a rock out the window and hit five different designers, but long story short I actually was able to make that happen. So I got a job working at VSA. That was a dream job for me. I'd been following that firm since college.
I spent a couple of years there just working with some of the most talented people I've ever been exposed to and I just learned a ton. [I was] working at what I perceived as being the top of the design world. It was when my wife found another opportunity to go and lead another PR team in Charlotte, North Carolina I was like, "Okay, we can do this." At that point, had probably worked myself into the ground, which is not to say that I knew everything, but I knew how to work from both ends of the client-side food-chain. I felt like I was ready to go off on my own. I did. We moved off to Charlotte and that's when I started really what became this agency.
Do you feel that the diversity of experiences like you've pursued is important for young designers, or even seasoned designers, to make that a part of their career path?
Absolutely. I remember the most early days. I remember going to design conference and there were designers that were just leaving college and they're like, "I'm starting my own agency!" I'm like, "Oh, that's a mistake. You don't know anything yet. You don't have enough experience." It's like if anything,
I was focused on doing great work for my projects, but I was also paying attention to what principles were happy versus not? How were they steering their agency or how were they approaching account strategy? A lot of stuff [I learned] had little to do with designing projects, but all the work which may have influenced things before they actually got to my desk. I'd been doing that the entire time so that when I did go off on my own, I felt as prepared as anyone. Even when I was off on my own I was able to credibly say that I'm able to offer a similar type of problem solving [similar to] a large agency because I'd had that experience.
Often there's a stigma that creatives can't run business. What do you say to that?
There may be. I think that's nonsense. Running a business is difficult for anybody. I'd say, in some ways, creatives may have an advantage because I think there's something that as creative people we're inherently more empathetic to others who are observing the world. . . We're having to create things for other people that in some ways have to be effective. That insight makes you more observant to business conditions, and makes you better at taking care of customers because you're observant of what their needs are.
If we run down the stereotype of what creative people don't like to do, then they don't know math or they don't want to deal with accounting, and they don't want to deal with insurance things. If I was an accountant I may have been more prepared for those things, but I have may have been less prepared to actually take care of people and take care of relationships. It's really a trade-off, so that's why when people say creative people aren't good at running business, it's is just garbage. Everybody is missing some piece of the puzzle based on their upbringing, and you've got to adapt.
I think that curiosity actually makes us stronger designers. I was preparing myself for those voids early on. Even when I'm observing and trying to learning from the folks that I'm working for that it's like, "Willie's talking about this business consultant David Baker that's teaching him about how to grow his agency better." Maybe I should be learning about David Baker and buying his books. That was happening early on. Again, I don't anybody ever really feels ready to go off on their own, but I felt pretty prepared. It's still scary as hell.
In your talk with the DSVC, you framed the body of the work that you shared as both design for commerce and design for good. Can you elaborate a little bit more about this?
There are needs that businesses are going to have [which] our skills as communicators in creating an effective, memorable communication are going to help get results. Those [are the] skills that we develop in that we're able to make a living off of. . . [It] is really all about taking a particular problem that needs to connect with a certain target audience and get them some type of return on their investment.
In in order for any project to be considered good as a piece of design, I think it actually has to be successful in its goal for the client. It may be successful as art, but it may not have been successful as design because it didn't accomplish its mission. That may not mean that if the client paid $10k for the design work and you didn't make them $100k that now that design failed. There are so many other components. There's the whole business strategy. The client may have had the audience wrong. If they're pitching their product towards 15 year-old suburban girls, you would then create a great design project to reach that audience. Then it turns out the client had that audience wrong and it actually should have been 50 year-olds, then sure, that may have been still been great design even though the project failed.
Outside of that there are so many societal needs that affect our quality of life and affect the quality of our culture. They affect our potential survival and they are not profit oriented. Resolving those problems can be helped dramatically by the type of skills and talents that we cultivate doing design for commerce. That's where I think we all have a responsibility to challenge the things that we see in our lives and our world that are neglected. [They] may not be seen as profitable, or they may not have budgets, but we can still shine a light on them to get people to change opinions or to change behavior. . .
As designers, we are uniquely skilled as creative communicators. Whether it's making sure elections are more effective, dealing with homelessness or even racism, we can't stay on the sidelines on those issues. . . You have to be about persuading people to take action, or persuading people to get involved because that call to action can be dramatically more effective by skilled, professional creatives being involved.
So you feel, as creatives, not only are we well suited for it, but that have a responsibility to design for good?
I feel like all people have a responsibility to affect the world for good, but absolutely, it's a waste if creatives sit out. There are times that I have talked about design for good. I took that label. It's not a label that I've invented. It's a pretty commonly used thing. I like to talk about it differently and say it's work of actual significance. There's work which has no significance and there's work which actually has significance. If we look at significance, I'm looking at this label of, "Alright, what are we creating that is having a lasting impact on the world?" If I'm helping Company X sell more shoes, that's exciting. The client made more money, and I made more money too. But those shoes are going to eventually end up in a landfill. Did we advance the human race by selling more shoes? Probably not.
I can't think of a more important time where there's so much noise of just arguments that are happening in mainstream and social media. People are talking past each other. . . Our clients come to us and ask, "It's a competitive business landscape. We need to do something which is going to stand out from the crowd, and get [people] to buy our product." It's the same thing we're trying to compete for here from an ideological standpoint. It's like, "Alright, how do we get somebody to pay attention to this issue and to change behavior?" We know how to do that. So yes, we've got a responsibility.
It'd say that's good stuff. You spent a good deal of your talk with the DSVC covering your recent project of re-branding the South. Tell me a little about how that came to be, what working on that was like?
We had been approached by the producers [of WNYC's Studio 360]. They were looking for a firm in the South that would be interested in taking on a project like this. I mentioned my recent pet research around reconstruction and Civil War history. . . I was really trying to understand why those things are hung on to and are important to the people that are trying to preserve them, so I'd being able to explain that to my kids. I was just burying myself in all this research. I didn't know how, but I was interested in how to affect change in that space.
When this project came up, it was like it was meant to be. I knew we had to do this. An aspect of it which was interesting to [Studio 360] was that we were going to be going through that journey as a creative team here in the South. The diversity of experiences around the historical symbols for the South, and that passion for that symbol is represented in our own office. We were going to be attacking this thing as a bunch of anti-Confederate activists but with people on our team that grew up holding that symbol in esteem and respect and honor.
I had the perspective that this was going to be important to do well. I mentioned in my talk that it was important for this to be more like a peace-making effort. Attacking the hard truths, but also in the end that we put more emphasis on authentically on representing the South as it is today. I knew if we were to approach this as liberal anti-Southern activists, that it just would fall flat and be irrelevant. We would be missing the power that I think it resulted in, and where it arose the passions on both sides of the debate. That was exactly what I wanted to do.
Do you see design as the primary agent of this change?
Not by itself, but It can play an important role. I'm trying to think of when it's been at its best. . . The most compelling example of how [design] can be used at its poorest is the way that Nazis used it. . . There was a very specific brand standards manual on how it was supposed to be used on uniforms, depictions on flags, vehicles, across the board. What that did was create a horrifying, very specific brand experience whenever you saw that thing. That gave it power. When somebody walked in with that on their sleeve or that thing is hanging off of somebody's house or on a flagpole, all the horrors that you may have associated with it becomes represented in that moment.
What's the opposite of that look like for design? I don't know if we've seen it. . . If we were to pick something that's really important that is dragging society down, and we're able to bring people together and get them to working towards a common goal, then maybe we can effect change in a profound way. It's going to spur action. . . The Nazi flag isn't what killed six million Jews. It was the people that did it, so it's what does the opposite of that look like? We can only inspire people to come together and take strong action.
Design will be a component. It'll make it easier to bring people together. It'll make it easier to actually get folks to step up, and to take notice. They must realize they need to be called to a cause, and to bring their own individual talents – whether they're accountants, athletes, lawyers, mechanics, or whatever. We have to deal with the problems of the day. Maybe that's climate change. . . That could absolutely be the most important design issue. We've got folks that just do not believe scientific fact. How do you cut through that to actually persuade people so that we can take steps forward as a world and try and save the earth? That could very well be the most important challenge that we have to deal with today, whether through governments, as people or as designers.